About St. Paul's
Located on a beautiful 73 acre campus, situated in the heart of the Dallas-Fort Worth Metroplex, St. Paul's Preparatory Academy is a non-denominational Christian school for early childhood through grade 12. With an emphasis on a classical education from a Christian perspective, St. Paul's offers an affordable, college preparatory education in a protected environment. From early childhood through grade 12, students learn the fundamentals that will prepare them for a successful college career. St. Paul's is located in Arlington, Texas off of US HWY 287 just a few minutes south of I-20. St. Paul's location also borders the city of Mansfield, Texas, making the school a convenient choice for parents in the Arlington, Mansfield, and Kennedale communities.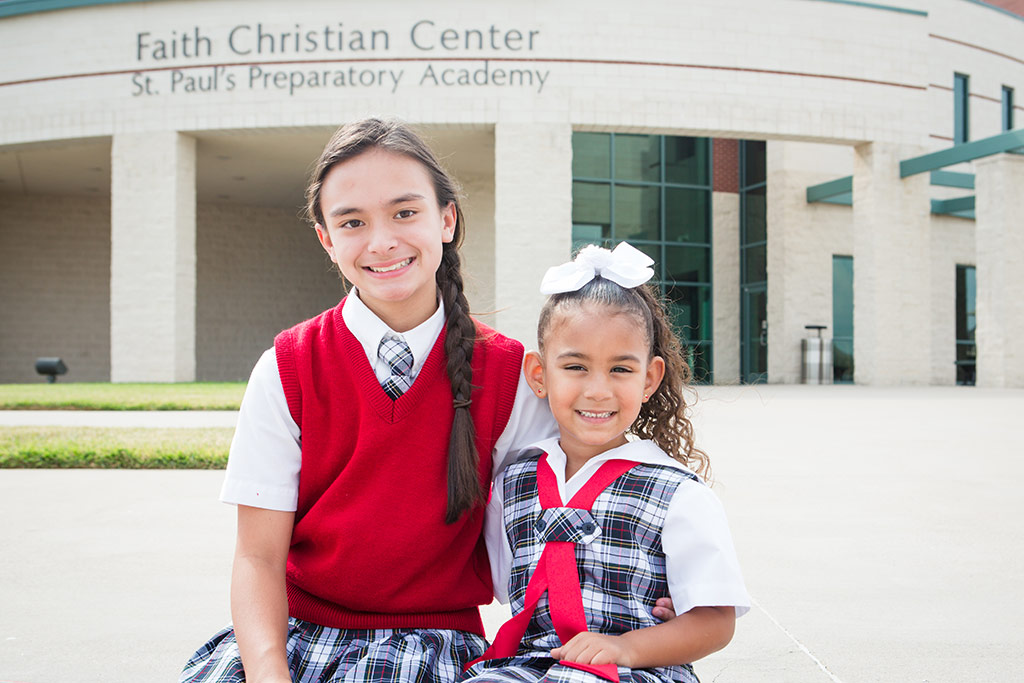 Founding
In 1988, Dr. Gene and Sue Lingerfelt founded St. Paul's Preparatory Academy as an extended ministry of Faith Christian Center to provide a college-preparatory, Christian education.
Mission Statement
At St. Paul's, we believe in instilling strong character values in our students. The three central values of the school are honor, duty, and loyalty, as symbolized in the school's crest. St. Paul's prepares students for success in every area of life. We believe that when students graduate they should be prepared to be successful in whatever endeavors they choose to pursue. With a strong emphasis on a classical education, the school prepares students to be hard-working, ethical individuals who lead the way in their chosen professional fields and in society.
Accreditation
St. Paul's Preparatory Academy has been accredited by the Texas Alliance of Accredited Private Schools (TAAPS) and is also a member of the Association of Christian Schools International.
Affiliation
St. Paul's Preparatory Academy is a member of the Texas Alliance of Accredited Private Schools (TAAPS), the Association of Christian Schools International (ACSI), the Texas Independent School Consortium (TISC), Christian School Athletic Fellowship (CSAF), and Texas Christian Athletic Fellowship (TCAF). The Preschool Department is licensed through the State of Texas.

Elements that Make St. Paul's Unique
All Day Preschool
A Beka Curriculum (Nursery - 6th Grade)
All Day Kindergarten
Degreed Teachers
Teachers with Advanced Degrees (Master degrees, Doctoral degrees)
A School Board that Cares
College Prep Courses
Test Prep Classes
Art
Music
Drama
Catered Lunch Program
Advanced Computer Labs
Spanish K3-11
Weekly Chapel
Kindergarten Graduation
Disciplined Learning
Individualized Attention
Field Trips
2 Outdoor Playgrounds
Sports Including Cheerleading for Grades 1-12
College Regulation size Gym with Multiple Courts
Accredited by TAAPS
College and University Placement
Uniforms
St. Paul's students in grades K3-12 wear uniforms purchased from Mills Uniforms. Uniforms can now be ordered online through the Mills web site. Click here to visit their web site, and then enter the school's uniform code (383) to display available uniform items for the academic school year. You can also shop in person at Mills Uniforms at 5460 E. Loop 820 S. Ft. Worth, TX 76119. Click here for directions.
Kindergarten and Preschool Licensing
Chapel
Each week, the students engage in a time of worship and learning during Chapel services. The various grade levels each receive authentic, Scripture-based teaching presented in a way that is relevant to them. It also allows our older students an opportunity to use their God-given gifts to honor Him through student-led praise and worship.
Tours
The school's regular office hours are 8:00 a.m. to 4:00 p.m., Monday through Friday (CST). Click here to schedule a tour. You can also schedule a tour by calling 817-561-3500.